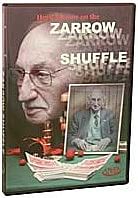 Sometimes it feels like I'm perpetually cleaning my office. Yesterday I came across the DVD The Zarrow Shuffle by Herb Zarrow. I watched the very beginning and realized that I learned to do this wrong. What I'm doing looks fine, but they first way the Herb demonstrates looks way better!
When I learned to do the shuffle, it was in the context of the trick Triumph. For the Zarrow Shuffle, I slip cut one card. I used that method for other tricks as a false shuffle. If you slip cut a block, it's soo much more deceptive than with a single card. Also Herb's way of jogging the cards is much more deceptive than pushing them out with your index fingers.
I'm glad I came across this, but now I've got a challenge ahead of me. I've got to undo 25+ years of the way that I've been doing it. The changes are fairly minor, so hopefully it won't be too much of a pain.
Recently I did this unlearning and relearning process with how I get a card injogged. I figured out a way when I was a kid by reading something wrong and it worked for me. However I relearned to do it Jerry Andrus's way because it looks better.
Don't be afraid to unlearn thing if there's a new (to you) way of doing it that looks or works better than what you were doing before. I know it's a pain to spend time basically learning to do something you can already do, but I think it's the little things like that that make someone an artist.