The other night I did a corporate gig and before the stage show I did some roving during the cocktail hour. Personally I prefer to do this than not do it at a corporate event, as it basically lets me be my own "opening act". People start to warm up to me before the show.


When doing roving magic, I'm always looking for miracles to make happen. Things that aren't part of my normal close up set. Typically these use things that are in the performing environment. The round tables in this room had a table cloth with a square cloth napkin in the middle. I'm assuming a center piece was on the napkin at some point. That led to a miracle!


I was performing for a group. I asked a guy to name any card. He said 10 of Diamonds. I handed him the deck, he shuffled them tossed them in the air so they landed on the table, and his named card ended up under the middle of the napkin!


How did I do it? I remember watching Eugene Burger's video on Matt Schulien's Fabulous Card Discoveries.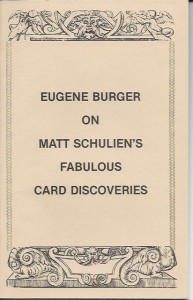 On that VHS tape he did Matt's Card Under Tablecloth and that's basically what I did. I did have to adjust it a little bit for the situation. That's where having a solid background in different tricks and sleight of hand moves comes in very handy! This trick was the talk of my roving set and was totally worth the risk of trying something I'd never done before.